How to Get to Manokwari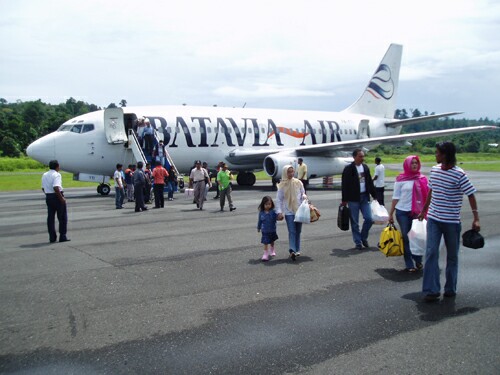 Important Visa Information for Foreign Participants
Citizens of many foreign countries require a visa to enter Indonesia; conference participants most commonly choose to enter with a tourist visa. For some nationalities, visas are available at the entry port to Indonesia, while for other nationalities, visas must be obtained in advance from an Indonesian consulate in another country. Participants are advised to check with their travel agent, or with a reliable website, such as that of the Indonesian Embassy in Australia.
As of early 2007, the situation was roughly as follows. Nationalities not requiring a visa for Indonesia include Singapore, Malaysia, Thailand, Hong Kong and Macao, Philippines and a few others. Nationalities requiring a visa obtainable on arrival include Australia, New Zealand, several major EU countries (recently revised to include also the Netherlands), USA, Canada. and Russia. Citizens of some unfortunate countries are required to obtain their visas in advance, before arriving in Indonesia. Basic tourist visas, as well as visa-free entry permits, are generally valid for a 30-day stay.
It should be noted that visa-free and visa-upon-arrival facilities are restricted to specific ports of entry to Indonesia; otherwise you need to get a visa before leaving home. However, these ports of entry include most of the ones likely to be used by travellers to Manokwari, such as the airports in Jakarta, Makassar and Denpasar, and the seaport at Jayapura.
As you probably know, Manokwari is located in a politically sensitive part of Indonesia. Foreign travellers to many locations in the western part of New Guinea require a special surat jalan, or travel permit, issued by the Indonesian immigration authorities; however we have been assured that such a surat jalan will not be required from conference participants visiting Manokwari.
Nevertheless, foreign conference participants should take careful note of the following procedure. By now you have already submitted to us the necessary details from your passport. The authorities will then examine these documents and vet the list of participants on an individual basis, and they do have the right to reject the participation of any individuals that they so choose. However, we have been assured that, unless you are already on some kind of blacklist, or have been engaging in unwelcome political activity that has come to their attention, there should not be any problems.
In spite of all of this, visitors to Manokwari will inevitably be struck by the peaceful, friendly and laid-back atmosphere of the place. Soldiers and policemen seem to be less in evidence than elsewhere in Indonesia, and during the three weeks I was there in 2006 I was not asked to show my passport even once.
Travel Information
Travel to Manokwari is by foot, boat or air; there are no road or train connections to anywhere else. Most or all non-local participants will choose to come to Manokwari by air.
As of early 2007, Manokwari was served by three domestic airlines, Batavia, Merpati and Air Express, providing an average of around two connections per day between Manokwari and the rest of the world. Schedules change constantly, and for Merpati and Air Express, are a well-kept secret. Probably the best of the three airlines is Batavia, which at least has a working web site in Indonesian containing a schedule. Most flights to Manokwari depart from Makassar (formerly Ujung Pandang). Sometimes the flight originates in Jakarta and just has a stopover in Makassar, while in other cases the flight out of Makassar is fed by connecting flights from Jakarta (or other points such as Surabaya and Denpasar). From Jakarta to Manokwari you should prepare yourself for around 5 hours of net flying time, plus a few hours for connections, stopovers and delays: in other words, you're looking at a pretty full day of travel. Airfares from Jakarta to Manokwari range from 2,000,000 to 4,000,000 Rps (US$200-400) round trip.
Most travellers from out of Indonesia will use Jakarta as their gateway to Indonesia. However, travellers from Australia might find Denpasar to be a better choice. And travellers from Singapore and Malaysia might want to check whether Silkair or Malaysian Airlines have direct flights to Makassar: sometimes they do, sometimes they don't (as of early 2007 this option was off again).
Participants in the ENUS conference in Kupang will probably have to fly from Kupang to Makassar and from there to Manokwari. (If there are local carriers that offer a more direct route, such information would only be available in Kupang.) Travellers from Papua New Guinea have the further option of travelling overland from Vanimo to Jayapura, and then flying from Jayapura to Manokwari; for information on the overland route from PNG see the following useful outside link.
Those wishing to combine Manokwari with travel to other parts of Papua have additional options. Manokwari is also connected by plane to Jayapura and Sorong, which in turn are connected by other flights to central and western Indonesia. For example, those wishing to visit Wamena and the Baliem valley (arguably one of the most fascinating places in the world accessible by regular scheduled flights) can fly from Manokwari to Jayapura, Jayapura to Wamena and back, and then from Jayapura directly back to Jakarta without having to backtrack to Manokwari. There are also flights from Manokwari to Biak, with Merpati, but these seem impossible to book if you're not already in Manokwari or Biak.
For those in search of adventure, some information on getting to Manokwari by the national ship company Pelni is available here.