Accommodation in Manokwari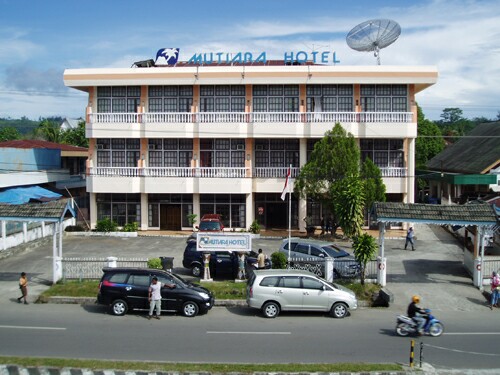 There are no top range hotels of international standard in Manokwari, all the more reason to come before the Novotels and their clientele arrive. A wide choice of mid and lower range hotels are available, though none stand out as being exceptional in any way, and at any given time, a certain percentage of the promised facilities (water, airconditioning, TV, minibar, etc.) are likely to be broken down — just grin and bear it. Prices are around 50% to 100% more than what you'd expect from similar standard hotels in Indonesia proper.
The following list contains most of the major hotels, for your information, and for those who wish to strike out on their own. The prices shown are as advertised in late February 2007, inclusive of taxes, and (usually) breakfast. Prices may increase by August; on the other hand, you may be able to negotiate a discount, though this seems to be less easy in Manokwari than in most other places in Indonesia.
Mid Range Hotels
Fajar Roon Hotel
Jl. Trikora, Wosi, (0986) 215942, 215943
Rps 245,000 - 575,000
A bit out of town, in Wosi, but distances are so small it doesn't really matter. The only hotel to have internet access, via a couple of terminals in the lobby.
Mutiara Hotel
Jl. Yos Sudarso 41, (0986) 211777, 211787, 211788
Rps 290, 400 - 326,700
Right across the street from the pasar tingkat (main market) in Sanggeng, in the most lively part of town.
Billy Jaya Hotel
Jl. Merdeka 51, (0986) 215787
Rps 151,000 - 363,000
Hotel Mokwam
Jl. Merdeka 49, (0986) 211403
Rps 210,000 - 294,000
Metro Hotel
Jl. Biak, (0986) 215975
Rps 247,500 - 495,000
Mangga Hotel
Jl. Bhayangkara 1, (0986) 211693
Rps 180,000 - 288,000
Some rooms face the harbour
Low Range Hotels
Soribo Hotel
Jl Taman Ria, Wosi, (0986) 211759
Rps 80,000 - 195,000
Out of town, but looks rather less sleazy than the other hotels in this price category
Hotel Mulia
Jl. Yos Sudarso, near corner of Jl. Percetakan Negara, (0986) 211320
Rps 100,000 - 125,000
Hotel Maluku
Jl. Sudirman 52, (0986) 211948
Rps 100,000 - 215,000
Hotel Beringin
Jl. Sudirman, perhaps 200 meters south of the Maluku, (0986) 211909
Looks like the cheapest joint in town, but nobody was around to quote prices when I checked.
Homestay
Inggandi Beach Homestay
In a completely different league from all of the above, this promises to be the first beach-front traveller-style place to stay in Manokwari, if not all of Papua. Situated a couple of kilometers east of town, just past Kwawi on the road to Pasir Putih, the beach is actually rocky, but the view is great, and boats are available for the short crossing to Pulau Mansinam Unfortunately, the cottages are still under construction and will not be ready in time for us. Instead we will be having our evening banquet here, on Wednesday the 8th of August. But if you're planning a future visit, check with ibu Poppy at (0813) 57002265.