How to Get to Manokwari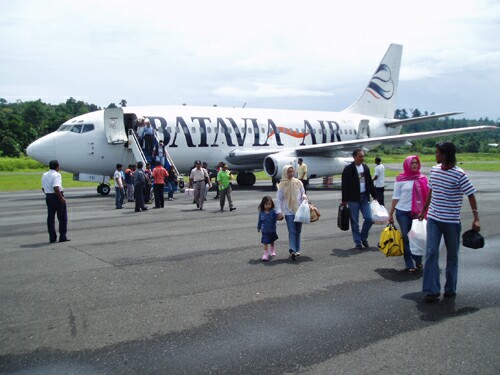 Visa Information for Foreign Participants
Citizens of many foreign countries require a visa to enter Indonesia: for some nationalities, visas are available at the entry port to Indonesia, while for other nationalities, they must be obtained in advance from an Indonesian consulate in another country. Conference participants most commonly choose to enter with a tourist visa. Participants are advised to check with their travel agent, or with a reliable website, such as that of the Indonesian Embassy in Australia.
As of mid-2009, the situation was roughly as follows. Nationalities not requiring a visa for Indonesia include Singapore, Malaysia, Thailand, Hong Kong and Macao, Philippines and a few others. Nationalities requiring a visa obtainable on arrival include Australia, New Zealand, several major EU countries, USA, Canada. and Russia. Citizens of some unfortunate countries are required to obtain their visas in advance, before arriving in Indonesia. Basic tourist visas, as well as visa-free entry permits, are generally valid for a 30-day stay.
It should be noted that visa-free and visa-upon-arrival facilities are restricted to specific ports of entry to Indonesia; otherwise you need to get a visa before leaving home, even if your country is on the visa-free or visa-on-arrival list. However, these ports of entry include most of the ones likely to be used by travelers to Manokwari, such as the airports in Jakarta, Makassar and Denpasar (as well as the seaport in Jayapura).
As you probably know, Manokwari is located in a politically sensitive region. Foreign travellers to many locations in the western part of New Guinea require a special SKJ (Surat Keterangan Jalan), or travel permit, issued by the Indonesian immigration authorities; but such a document is not required for visitors to Manokwari. However, if you plan to combine your trip to Manokwari with travel to other locations, it is your responsibility to arrange for your own SKJ to such locations.
In spite of all of this, visitors to Manokwari will inevitably be struck by the peaceful, friendly and laid-back atmosphere of the place. Soldiers and policemen seem to be less in evidence than elsewhere in Indonesia, and provide you follow the obvious rules, you are unlikely to have untoward encounters with officialdom.
Travel Information
Travel to Manokwari is by foot, boat or air; there are no road or train connections to anywhere else. Most or all non-local participants will choose to come to Manokwari by air, using Jakarta as their gateway to Indonesia.
As of mid-2009, there were three airlines flying on the Jakarta- Manokwari route, Batavia, Merpati, and Air Express, all three with a stopover in Makassar. Different airlines fly on different days, providing an average of around two connections per day between Manokwari and the rest of the world. Travel time from Jakarta to Manokwari (including the stopover in Makassar) is 6-8 hours if you're lucky, but has been known to take days. Schedules change constantly, and are not really taken very seriously by the airlines, so you should not take them too seriously either. Most of the flights from Jakarta tend to leave late at night, around 2200 or 2300 hrs, and get in to Manokwari early the next morning. On the return journey, flights usually leave in the early or mid morning, and arrive in Jakarta in the late afternoon or evening. Round trip airfares from Jakarta to Manokwari are generally in the 4,000,000 - 5,000,000 Rps (400 - 500 USD) range.
My own personal recommendation: Batavia is bad, Merpati is worse, and Air Express is so hard to book I wouldn't know how bad it is. Batavia is usually my reluctant first choice.
Although Jakarta is the most obvious gateway for foreign participants traveling to Manokwari, other options are also available. One alternative is to enter Indonesia via Makassar and pick up the Jakarta-Manokwari flight in Makassar. Air Asia flies four times a week (Mondays, Wednesdays, Fridays and Sundays) from Kuala Lumpur to Makassar and back. These flights are easily bookable over the internet, but the connections with the Manokwari flights are poor, so this option is probably more appropriate if you are interested in adding a short visit to Makassar to your trip. (Malaysia Airlines and Silkair are also worth checking, though as of mid-2009 they were no longer flying to Makassar.) Another option, primarily for Australians, is to enter Indonesia via one of the many flights to Denpasar. But to get from there to Manokwari you must then fly to either Jakarta or Makassar in order to pick up the Manokwari flight.
Finally, travelers coming from or through Papua New Guinea may consider the possibility of making use of the land crossing from Vanimo to Jayapura. For the last several years this has been a relatively straightforward trip; however, in July 2009 the Indonesian authorities announced that the border crossing was being closed to all travel. Subsequent unofficial reports suggest that, in spite of the announcement, the border is still open for traffic, but this option is now clearly somewhat of a gamble. If the border is open, this route involves flying from Port Moresby or Wewak to Vanimo, land travel from Vanimo to the border and then on to Jayapura (a reasonably easy day's journey), and then a fight, on either Batavia or Merpati, from Jayapura to Manokwari. Note that the land crossing from Vanimo to Jayapura is not on the list of entry points that issue visas on arrival, so you will need to obtain your Indonesian visa in advance, possibly at the Indonesian consulate in Vanimo (but check in advance to see if this is still possible).
Booking domestic flights from outside of Indonesia can be a daunting task. In principle Batavia and Merpati both have online booking, but in practice it is often difficult or impossible to navigate through their sites. (Note: some travelers have reported being told by travel agents in other countries that there are no direct flights from Jakarta to Manokwari and that you have to fly to Jayapura first. This is patently false; in fact, many of the flights from Jakarta to Jayapura are themselves continuations of the flights to Manokwari. Jayapura is a beautiful city well-worth visiting, but only if you really want to.)
As a last resort, if all else fails and you are unable to book your flight to Manokwari, the staff of the Max Plank Institute Jakarta Field Station will be willing to make the necessary travel arrangements on your behalf; for further information please click here.
Given the unreliability of air transport to Manokwari, participants are advised, if at all possible, to try and arrive in Manokwari a couple of days in advance. This will provide you with a safety net, and give you some time to settle in, relax, and get a feel for the place. Also, February 5 (and the adjacent days), are perhaps the most exciting time of the year to be in Manokwari, as this is when people come from all over Papua to celebrate the anniversary of the arrival of the first missionaries on Mansinam Island just off the coast of Manokwari: lots of ceremonies and colourful parades with local dances and costumes, and a huge beach party. If you can spare the time and fit this into your schedule, it is well worth the extra few days.
Finally, those wishing to combine Manokwari with travel to other parts of Papua have additional options. Manokwari is connected by plane to Jayapura and to Sorong, which in turn are connected by other flights to central and western Indonesia. For example, those wishing to visit Wamena and the Baliem valley (arguably one of the most fascinating places in the world accessible by regular scheduled flights) can fly from Manokwari to Jayapura, Jayapura to Wamena and back, and then from Jayapura directly back to Jakarta without having to backtrack to Manokwari. There are also flights from Manokwari to several other smaller destinations with Merpati and sometimes also Trigana Airlines, but these are very difficult to book in Manokwari, and well-nigh impossible elsewhere.