Venue
ISMIL 20 2016 is being hosted by the University of Melbourne, Monash University and La Trobe University and will take place on the University of Melbourne Parkville Campus, which is a very short tram ride (or even walking distance) from the heart of metropolitan Melbourne. The venue itself will be Theatre C of the Old Arts building:
Click on the campus map below to download it as a PDF...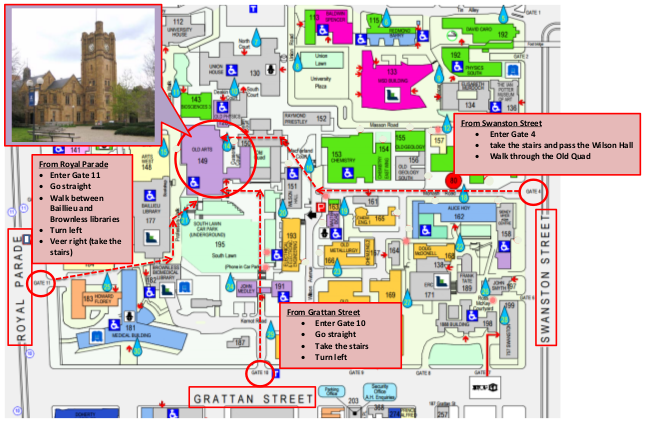 Melbourne: Quick intro & info
Intro
Melbourne is the second largest city in Australia with a population of nearly 4.5 million people. Melbourne has been named the world's most liveable city for five years running. It is a hip city, well-known for its coffee, cafes and laneways. The latter host a wide variety of great hidden bars and restaurants. Wandering through these laneways may lead you to a hidden food or drink gem and if you're not paying attention, you might not be able to find again!
Speaking of coffee, Australia has its own coffee lingo. As well as the usual Caffè Latte and Cappuccino, you will find the Short Black (an espresso), the Long Black (an espresso drawn out to a full cup – the closest to a 'regular' cup of coffee), and the Flat White (espresso with steamed milk, but without the foam or cocoa of a Latte or Cappuccino).
Melbourne is a richly multicultural city, with many neighbourhoods hosting particular migrant communities, and with these communities great food! So, for instance, Richmond and Footscray are homes to the Vietnamese diaspora communities and consequently have great Vietnamese food to boot. Carlton, next the university, was home to many post-WW II Italian immigrants and there are still several Italian restaurants and cafés there. A famous one you don't want to miss is Burnetti's in Lygon St. There are great Asian eateries located within walking distance of the conference venue, including more than a few Indonesian/Malaysian restaurants.
Sightseeing in Melbourne
Federation Square and Flinders Street Train Station sit at the centre of Melbourne. There's a great tourist information centre in Federation Square to meet all of your touristic needs for Melbourne and further afield. Visit this website for a head start:
http://fedsquare.com/shopvisit/melbourne-visitor-centre
You can also visit this site for further tourist information for visiting Melbourne:
Not far from Federation Square, you can walk or eat in one of many fine restaurants along the Southbank Promenade. You might also take a boat ride from the Southbank Promenade to Williamstown. This would enable you to follow the Yarra River from the city to its exit point on the Port Phillip Bay. You then might catch a meal in Williamstown and then ride the train back. St. Kilda also makes for a great city stop for food, cakes and drink or a visit to the 100-year-old Luna Park amusement park. For souvenir shopping you'll want to visit Queen Victoria Market in Elizabeth Street, not far from Melbourne Uni.
Sightseeing further afield
There are a number of great day trips to take from Melbourne to see Australia's flora and fauna. For instance, two popular favourites are a trip along the Great Ocean Road and a trip to Phillip Island. The Great Ocean Road trip enables you to travel along Australia's majestic southern coast. Among other things, you'll have the chance to visit the famous surfing site, Bell's Beach, and the Twelve Apostles rock formations. A visit to Phillip Island generally includes a trip to an animal rehabilitation centre where you're guaranteed to get up close and personal with Australian animals. The primary purpose of the Phillip Island trip, however, is to watch the penguins waddle ashore and return to their nests after a hard day of swimming.
That said, you don't need to book an organized trip to get to the bush. The local Belgrave train line ends in the bush! You can step off the train line and hike around to get a good sense of the Australian flora. Depending on the time of day, and how far you're willing to hike, you stand a chance of seeing a wallaby or two. No need to pack a lunch. Belgrave town has a lot of nice cafes and these are quite close to the train station. Or rather than walking, you hop on 100 year old Puffing Billy steam train line for a tour of the Dandenong Ranges.
Another excuse to get out of Melbourne is Sovereign Hill's Christmas in July. Sovereign Hill is an open-air museum set up like an Australian gold mining town in the 19th century. Each July (winter here in Australia) Sovereign Hill hosts a Christmas in July to show how 19th century Australians celebrated Christmas. The town is dressed in Christmas decorations, there are Christmas carols, mulled wine and fake snow. It's a little daggy/dorky but if you're into this kind of thing, it's also good fun. See this website for more information:
http://christmasinjuly.sovereignhill.com.au
There are just a few suggestions. Check out the websites above or talk to the Melbournians when you're here for more information.
Weather
It is essential to note that July is the heart of the Australian (Southern Hemisphere) winter which means you should come prepared. The average high in July is 14C (57F) and the average low is 6C (43F). However, the weather in Melbourne can be quite variable even in a single day. Locals often joke that Melbourne sees four seasons in one day and, well, sometimes it's not a joke. Suffice it to say, you might go to the conference on a rainy 6C (43F) morning and find yourself emerging at mid-day to a 21C (70F) day.
On the plus side, the Melbourne winter means it is Australian Rules Football season, so why not catch a game if you're a sporting type? It's an all-around good Aussie experience.
In any case, we hope you enjoy your time in Melbourne. Please track down any of us Melbournians and pick our brain for more ideas or advice!