Venue
The ISMIL 9 meeting will be held at the Nuansa Maninjau resort.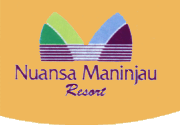 Mailing Address:
Ambun Pagi, Matur Mudik
Kab. Agam, Sumatra Barat, Indonesia
Telephone: +62-752-61555
Fax: +62-752-37567
Email: info at nuansamaninjau.com
Website: http://www.nuansamaninjau.com
The Nuansa Maninjau is situated in a small mountain village called Ambun Pagi, surrounded by fields and forests, with a spectacular view down to lake Maninjau.
The Nuansa Maninjau has kindly agreed to provide ISMIL participants with special discounted rates. The following rates are for singles or doubles, and are inclusive of all taxes, plus breakfast and lunch. The rates are given in Rupiah. (For a rough conversion to Euros at time of writing, divide by 10,000, or simply chop off the last four digits.)
| | |
| --- | --- |
| Standard Room | 360,000 |
| Superior Room | 400,000 |
| Deluxe Room | 540,000 |
| Honeymoon Suite | 560,000 |
| Standard Cottage | 705,000 |
| Superior Cottage | 906,000 |
| Deluxe Cottage | 950,000 |
| | |
| Extra bed | 80,000 |
ISMIL participants are expected to make their own hotel reservations. If you wish to stay at the Nuansa Maninjau, please contact their reservation department by phone, fax or email, and tell them that you are participating in the ISMIL meeting (in order to be elegible for the discounted rate).
Some pictures of the Nuansa Maninjau are available here.
ISMIL participants who wish to stay at another hotel will find further information here.