How to Get to Maninjau
Your basic choice is between flying and coming overland. If you decide to fly, the nearest airport is in Padang, the provincial capital of West Sumatra. If you prefer to come overland, there are many possible routes, but the most likely one is via Bukittinggi.
By air to Padang
The most straightforward way to get to Padang is via Jakarta. Two convenient alternatives worth looking into involve flying to Padang from Kuala Lumpur or Singapore.
Via Jakarta
The default method of getting to Padang is by air, via Jakarta. From Australia and East Asia, there are frequent non-stop flights to Jakarta from all major cities. From Europe, there are frequent flights to Jakarta on lots of major world airlines, including Singapore Airlines, Thai International, Cathay Pacific, Lufthansa, KLM, Air France, British Airways, and many others. From the west coast of North America, there are good connections to Jakarta on major east Asian airlines such as Singapore Airlines, and Thai International. From the east coast of North America, travellers have a choice between trans-Atlantic and trans-Pacific routes of roughly equal duration. From Jakarta to Padang there are about 10 daily flights, on a variety of domestic airlines, including Garuda, Mandala, Merpati, and Jatayu. The duration of the flight is a little over one hour. According to the current schedule, the last flight from Jakarta leaves at 1850, which makes a same-day connection to Padang possible for most incoming trans-continental flights.
Anywhere in the world, a good travel agent should be able to sell a reasonably priced round-trip ticket to Jakarta. Some of the obvious things to look into when buying your ticket are whether you can change the dates at a later stage, and whether you are entitled to stopovers should you so wish (for example, does a ticket on Thai entitle you to a stopover in Bangkok?) Booking the domestic flight from Jakarta to Padang may prove somewhat more challenging for many travel agents. When purchased in Indonesia, the cost of the ticket is in the 30-50 Euro range one-way, double that for round trip. If you find it impossible to book the domestic flight where you live for a reasonable price, please contact the Jakarta Field Station, and our secretary Diana Safitri will try and make the booking for you locally in Jakarta. (But please, only use this option as a last resort, since we're a linguistic field station, not a travel agency.) In addition, if you have any useful advice concerning the purchase of tickets which you would like to share with other ISMIL participants, please send it to David Gil and it will be posted here.

Via Kuala Lumpur

An alternative easy method of getting to Padang by air is via Kuala Lumpur. As of mid 2004, Malaysian Airlines had three flights a week from Kuala Lumpur to Padang and back, on Wednesdays, Fridays and Sundays, with good connections to and from their intercontinental network. And as of late 2004, the new Malaysian budget airline AirAsia was offering daily flights from Kuala Lumpur to Padang and back, with online fares for under 200,000 Rps (US$ 20) one way, bookable through their website at www.airasia.com. The new Kuala Lumpur International Airport (known as KLIA) is a strikingly beautiful facility and an excellent place to change planes.

In addition, Berjaya Air (www.berjaya-air.com, tel. 603-7846-8228) also has three flights a week from Kuala Lumpur to Padang, with a stopover in Malacca for those who would like to board there. Note, however, that Berjaya Air flies out of the old Subang airport at Kuala Lumpur, which is much closer to the city centre. While this is an advantage for people coming by land from Malaysia and Thailand, it is inconvenient for anybody arriving on an intercontinental flight, since these all go in to KLIA, and you would be looking at a one-hour and approximately 20 Euro taxi trip from KLIA to Subang. Finally, the Indonesian carrier Merpati also flies three times a week from Malacca to Padang, but this flight does not go to Kuala Lumpur.

Via Singapore

Yet another way of getting to Padang by air is via Singapore. Silkair, a subsidiary of Singapore Airlines, will resume, on May 1st, their twice weekly, Wednesday and Saturday, non-stop service from Singapore to Padang (which was suspended in February due to the tsunami.) In addition, Tiger Airways, a budget operator with excellent deals over the internet, at www.tigerairways.com, also begins flying to Padang in May, on Sundays, Tuesdays and Thursdays. Finally, Merpati, an Indonesian airline, flies from Singapore to Padang and back (with a stopover in Pekanbaru) four days a week, on Mondays, Wednesdays, Fridays and Saturdays. Obvious advantages of travelling via Singapore are less flying hours (except from Australia), a wider choice of flights to Singapore (as opposed to Jakarta), and the transit in Singapore's Changi airport, reputed to be the world's finest. A drawback is the relative infrequency of the flights and the lack of flexibility that this entails.

In addition, for collectors of exotic airlines and routings, Riau Airlines flies twice a week (Wednesdays and Sundays) to Padang from Johor Baru, the Malaysian city located just across the causeway from Singapore, for under US$ 25 one way. There are frequent and convenient shuttle bus services from Singapore to the Johor Baru airport; however, booking a ticket on Riau Airlines is a major challenge, since most travel agents, even in Malaysia and Indonesian, haven't even heard of them.

Getting from Padang to Maninjau

Easiest is by taxi. At the airport, taxis operate with an official pricelist; at present the fare is 150,000 Rps, or about 15 Euros (this figure needs to be doublechecked in 2005). However, if you wish to bargain, just start walking through the parking lot towards the main road outside; prices will drop by about 10% or 20%, though the quality of your prospective vehicle will plummet rapidly. In addition, anywhere around town you can stop a taxi, or a shared minibus (oplet) and "charter" the vehicle for a similar price.

If you want to save money, just stand on any road pointing in the right direction, and start flagging down shared minibusses (oplet). Several minibusses and a few hours later, you'll end up at your destination, for a fraction of the price.

By Land to Maninjau

There are any number of more adventurous ways of getting to Maninjau for those with more time and energy, and/or more limited budgets. Essentially, there are three main routes: from Jakarta, working your way up the island of Sumatra; from Singapore or Malaysia, crossing the straits of Malacca and the province of Riau; and from North Sumatra. Some of the locations mentioned in the following account are shown on the map: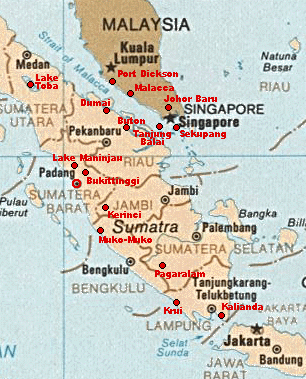 From Jakarta

Every two weeks there's a ship belonging to the Indonesian national shipping company that sails from Jakarta to Padang. Passage on the ship ranges from deck class to luxurious, with prices in accordance. Information on their July 2005 schedule will be posted as soon as it becomes available. Otherwise, it's easy to get from Jakarta to Bukittinggi by bus, which includes the short ferry crossing from Merak in Java to Bakauheni in Sumatra. However, as of early 2004, the Jakarta-Padang airfare had become so cheap that you don't really save that much by going overland, so it's more for the adventure than for the savings. Direct busses, which run constantly, in a steady stream up the trans-Sumatran "highway", are supposed to take about 36 hours but can sometimes take 48 or more. Note that land travel in Sumatra is now much faster and less uncomfortable than it used to be just a few years ago, when the same trip would involve a week or two of excruciating discomfort. Still, depending on your luck, the journey could be heaven or it could be hell; perhaps the only thing you can be sure of is that every few hours of the day and night, you'll stop for a meal at a roadside Padang restaurant.

Of course, any number of possible itineraries can be constructed involving shorter hops interspersed with rest and sightseeing. For example, a five-day trip involving 6-9 hours travel each day with time for a dip in the Indian Ocean every afternoon might go Jakarta - Kalianda - Krui - Bengkulu - Muko-Muko - Maninjau. Alternatively, there are lots of fascinating and almost completely untouristed places to stop off at and explore on the way, such as, for example, Pagaralam with ancient megaliths and its coffee and tea plantations; lake Kerinci and the surrounding national park; and lots and lots of beaches, mountains, jungles and rivers. Finally, if you don't want to take busses, a group of people could get together in Jakarta and rent a car plus a driver for the trip to Maninjau; if you're interested, please contact David Gil for assistance.

From Singapore or Malaysia

From Singapore or Kuala Lumpur, the sea/river/land trip to Maninjau takes about 15-19 hours, which can be done either in one very long day, from early morning to late night, or else broken up into two shorter days of travel with an overnight stop, most likely in Pekanbaru. The trip involves a few changes en route, but is relatively reliable, as it is a heavily travelled route.

From Singapore: the default route

From Singapore, the default route is Singapore-Batam-Pekanbaru-Bukittinggi-Maninjau. From Singapore, take a ferry from the World Trade Centre to the Sekupang terminal on the island of Batam. A variety of companies run mostly super-modern ferries which leave every few minutes from around 0730 until around 2130. The crossing takes about 40 minutes, and gets you in to Sekupang about 20 minutes before you left Singapore, since there's an hour's time difference between Singapore (GMT +8) and Western Indonesia (GMT +7). If you're aiming for an immediate onward connection out of Batam, you'd be well advised to take the first ferry out of Singapore, which will pretty much guarantee an immediate connection. Once you've cleared Indonesian immigration and customs in Sekupang, step out of the terminal and turn right, avoiding the touts who will inevitably pounce on you, and head for the domestic terminal right next door. Most or all boats to Pekanbaru leave between 0800 and 0900. Basically there are two ways of getting from Sekupang to Pekanbaru. Since 2003, there are one or two direct boats, which go up the Siak river all the way to Sungai Duku, the boat terminal just outside Pekanbaru. The "older" route involves a boat to Buton, which is just a transfer point on the Sumatran mainland, from which a bus takes you to Pekanbaru, all on the same ticket. Either route is fine, though if you have a choice, the direct boats are more convenient plus the river trip is quite pretty. Whichever route you take, you can expect to get in to Pekanbaru around 1600 - 1800. A word of warning: if you choose to sit on the rooftop to enjoy the view, be sure to cover your head, however overcast and cool you may think it is. The tropical sun can shine through both clouds and hair, and fry the top of your head without your noticing until it is too late.

From Pekanbaru to Bukittinggi, the heavily travelled road trip takes 4-6 hours. Ordinary busses leave from the central bus terminal called Loket. If you arrive in Sungai Duku, a taxi to Loket should cost you 20,000 Rps (about 2 Euros), and a shared oplet (minibus) much less. If you're coming from Buton, ask to be let off at Loket. Most of the busses are night busses, so, if you so desire, you should be able to make an immediate onward connection. Some of the night busses have the rather irritating habit of stoping in the middle of nowhere for a few hours, in order for you to arrive in Bukittinggi at the crack of dawn rather than at, say 0200. Many busses continue on from Bukittinggi to Padang, Pariaman, or other destinations which bypass Maninjau, but if you're lucky you'll find one going all the way to Maninjau.

Alternatively, just about any taxi or oplet driver anywhere in town, including those at Sungai Duku, will be happy to drive you directly to your hotel in Maninjau, at any time of the day or night. The "official" rate for the journey is 500,000 Rps (about 50 Euros), but with bargaining you might be able to talk your driver down to 400,000 Rps, or even less, if the vehicle is sufficiently dingy. If you're travelling in a group, this can work out quite economical. There are some spectacularly good roadside Padang restaurants along the way; ask to stop at one (and it's customary to pay for your driver's food and drink).

From Singapore: variations

The above routing is the most straightforward one, but there are numerous variations. If you want to avoid the early morning rush from Singapore to Batam and/or the cost of a hotel in Singapore, you can take a ferry out of Singapore at any time on the preceding day. If you wish to spend the night in Batam, there is a wide range of budget accomodation in the main town, Nagoya, which is about 30 minutes and a 25,000 taxi fare from Sekupang. (Or you can get a ferry from Singapore to Batu Ampar which is right next to Nagoya.) However, a more pleasant option would be to spend the night in Tanjung Balai, on the island of Karimun, which is a much more picturesque place than Nagoya: try one of the hotels right at the port. From Singapore, there are several direct ferries to Tanjung Balai; the trip takes about 90 minutes. Alternatively, you can go to Sekupang and catch a boat from there: last one departs at 1600. Not only is Tanjung Balai a nicer place to stay, but all the boats from Sekupang to Pekanbaru stop at Tanjung Balai on the way, about one hour after leaving Sekupang, so you can board at Tanjung Balai the next morning at around 0900 - 1000 and go straight on to Pekanbaru, without having to backtrack to Sekupang.

Other options are available for those wishing to take time off for sightseeing. In the Riau islands, the most popular tourist destination is Tanjung Pinang. You can get there by direct boat from Singapore, about a 2 hour trip, or via Batam (boat to Sekupang or Batu Ampar, taxi to Telaga Punggor, boat from there to Tanjung Pinang). From Tanjung Pinang, you can buy a through ticket to Pekanbaru which will take you early in the morning to Sekupang, to connect with the boats from there. Alternatively, you can visit the royal palace in Siak Sri Indrapura, about half way up the Siak river to Pekanbaru. To get there, you can either hop off the Sekupang-to-Pekanbaru boat, spend a night in the very rudimentary hotel in Siak Sri Indrapura, and continue by boat the next day to Pekanbaru. Or you can take a boat from Sekupang or somewhere else to Bengkalis, spend the night in a more comfortable hotel there, then, the next day, take a river boat to Siak Sri Indrapura, visit the palace, then catch another boat to Pekanbaru.

Of course, if all of this suddenly becomes overwhelming, there are also a variety of domestic flights from Batam to Padang, from Batam to Pekanbaru, and from Pekanbaru to Padang.

From Malaysia

Depending on where in Malaysia you're coming from, it may turn out to be more convenient to travel to Bukittinggi and Maninjau via Singapore. For example, the night train from Kuala Lumpur to Singapore gets you in with just enough time to catch a taxi to the World Trade Centre and then a ferry to Sekupang, to connect with the morning boat departures from Sekupang to Pekanbaru. (There was a time in my life when I did this every weekend!) Alternatively, if you've reached southern Malaysia but wish to bypass Singapore, there are several boats every day from the Stulang Laut ferry terminal in Johor Baru to Batu Ampar on Batam island; you could then spend the night either in Nagoya or Tanjung Balai and continue on to Maninjau the next day. A more exotic route is from Kukup, near the southwestern tip of the peninsula, to Tanjung Balai; but Kukup is harder to get to and the boats much less frequent. From more central locations in Malaysia, a welcome recent development has been the introduction of new boat service from Port Dickson and from Malacca directly to Pekanbaru. At present, there is about one trip per day on one or another of these routes, departing in the morning, getting in to the Sungai Duku terminal late afternoon. The "older" route, which apparently is still running, is from Port Dickson, Malacca, or Muar in Malaysia to Dumai in Sumatra. From Dumai there are frequent busses to Pekanbaru, and also directly to Bukittinggi (passing through Pekanbaru). Given a choice, the Pekanbaru boats are preferable to the Dumai boats for two reasons: First, the Siak river trip is much nicer than the road from Dumai to Pekanbaru; secondly, the Dumai ferry terminal has some of the most aggressive and unpleasant touts in all of Indonesia. The main problem with both of these routes is that the boats are much less frequent, sometimes once a day, sometimes not even that, and information on departure times is not easy to come by. More specific information will be posted as it becomes available.

From North Sumatra

North Sumatra contains Indonesia's third largest city, Medan, and also one of its most heavily touristed regions, namely lake Toba. In addition to residents of North Sumatra, this route to Bukittinggi may be of interest to participants who wish to visit the late Toba area before the conference. It is also an option for budget travellers from Thailand or northern Malaysia, who might consider taking the daily ferry crossing from Penang to Medan.

From Medan there are frequent busses to Bukittinggi, taking about 15-18 hours; and also a variety of flights to Padang. From the lake Toba region there are also frequent busses to Bukittinggi, taking somewhat less time.

Getting from Bukittinggi to Maninjau

If you've come this far by bus or minibus, you'll probably want to rough it up all the way to Maninjau; there is a fair amount of traffic, some of it continuing on past Maninjau to Lubuk Basung and Tiku. Alternatively, you can charter a taxi or minibus for around 100,000 Rps.