Getting There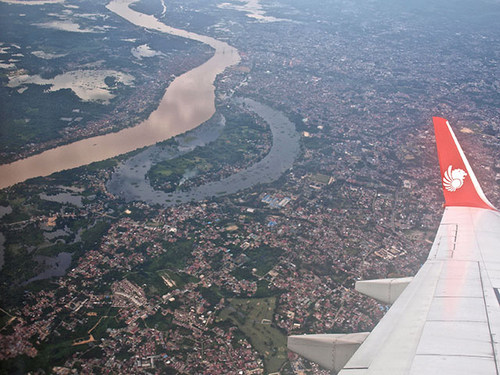 Getting to Jambi is very easy, though there aren't really that many options. Almost everyone will fly. And most people will fly from Jakarta, the only other realistic option being Batam. There are no direct flights to Jambi from Singapore, Kuala Lumpur, or any other international destinations.
By Air
The easiest option by far is from Jakarta. There are 5 daily flights on Lionair, 4 on Garuda, 2 on Citilink, and 2 on Sriwijaya — all readily bookable online.
The only other practical option is from Batam, with one daily flight on Lionair and one on Sriwijaya. The Batam option is worth examining only for those coming from other locations in Sumatra, such as Medan or Padang, or for those coming from Peninsular Malaysia or Singapore — though the latter might also include intercontinental travelers who find they can get a much better deal to Singapore than to Jakarta.
For aficionados of strange and exotic flights, there is also SusiAir, which operates a fleet of little planes connecting assorted minor destinations: their Jambi services include to/from Pekanbaru on Wednesdays and Saturdays, and Palembang on Mondays and Saturdays. Unfortunately, the only way to purchase a ticket is to show up at the airport on the day of the flight, though you might try calling them by phone first to make a "reservation".
Participants coming from the ISLOJ conference in Bandung will probably wish to travel via Jakarta, though there are other options, such as daily flights to Batam on Lionair and Garuda, and a daily flight to Palembang on Xpressair (from where it is 6-7 hours overland to Jambi).
Getting to Batam from Singapore and Malaysia
One possibility is Firefly which flies 5 days a week from Subang airport in Kuala Lumpur. Otherwise, it's a quick and easy ferry crossing from Singapore or Johor.
From Singapore, there are departures every few minutes from Harbourfront to various ports in Batam, of which the two main ones are Batam Center and Sekupang (the former being a bit closer to Batam airport, the latter a bit closer to Singapore). Travel time is roughly 30-60 minutes, but take note that Singapore is one hour ahead of Batam. Thus, from Singapore to Batam you'll arrive a bit before you leave, whereas from Batam to Singapore you'll arrive up to two hours after you leave. Getting to and from the ports in Singapore and Batam is an easy taxi ride, with one exception: on the way back, the taxi queue at Harbourfront is often 1-2 hours long, and you may be better off taking a bus to somewhere else first.
From Johor, there are rather less frequent departures from Stulang Laut and other less readily accessible places.
Arrival at Jambi Airport
From Jambi airport, taxis into town are at a fixed rate of 60,000 Rps. Alternatively, you can walk out of the airport and try and catch a metered taxi which will be around 30,000 Rps, or a minibus (angkut), which will be much less.
By Land and Sea
With enough time and energy, you can get to Jambi by land and sea from anywhere in Indonesia. However, the only practical option for participants is probably from Singapore, which can be done in one long day, and involves three stages. First, an early morning boat to Batam (see preceding paragraph); make sure you go to Sekupang and not any of the other ports. Second, a speedboat from Sekupang to Tungkal. Unconfirmed reports suggest that there is a daily boat that departs Sekupang at 9AM and gets in to Tungkal some 6 hours later. (If you take a 7AM Singapore-time boat from Harbourfront, you'll be through immigration at Sekupang by 7AM Indonesia time, and will have walked over to the domestic terminal and purchased your onward ticket to Tungkal by 7.15 AM, which leaves time for breakfast and/or room for error.) Finally, a minibus from Tungkal (presumably you will be shepherded onto one on arrival at the port), which takes 2-3 hours to get to Jambi.