The Second International Symposium On The Languages Of Java
June 4-5, 2009
Sheraton Beach Resort, Senggigi, Lombok, Indonesia


Conference presentations, handouts, powerpoints, and/or papers are now available for downloading: ISLOJ_Online_Materials.zip (15.6MB zip file).

We were also honored during the conference to have a reading of both Javanese poems and poems in Javanese by Effendi Kadarisman, with translations by Stuart Robson and Thomas Hunter. These can be read here.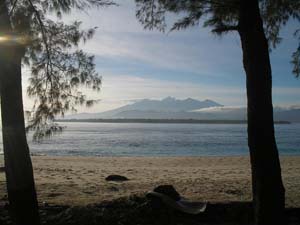 Keynote Speaker:
Dr. Thomas Hunter
Some Problems in the Study of Old Javanese as a Linguistic System
Here is the working paper and the keynote address.
Inquiries:
Thomas J. Conners
<oranghutan AT cbn.net.id>
Please note that the 13th International Symposium on Malay-Indonesian Linguistics (ISMIL 13) will be held immediately following ISLOJ, also at the Sheraton Senggigi Beach Resort, on 6-7 June, 2009. For more information see:
/ismil/13
---
Co-sponsors:

Co-organizers:

Thomas Conners, Max Planck Institute for Evolutionary Anthropology
J. Joseph Errington, Yale University
Zane Goebel, Nagoya University
Effendi Kadarisman, Universitas Negri Malang
Yacinta Kurniasih, Monash University